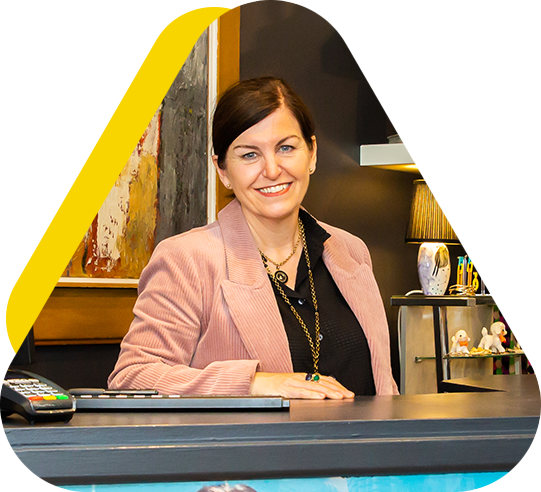 Shop insurance at a great price for good businesses like yours
Running a successful independent shop relies on the product & customer experience you offer. A successful shop owner therefore has very little spare time for the less creative side of the business and this is why we have developed a way to offer you the simplest way to buy your business insurance whilst being rewarded for your hard work with discounted prices. We have made the process of buying your insurance super simple by taking the time to learn everything we can about your business to offer the best possible package ready to buy. Just pop your business name and postcode into the box above, view your tailored price and purchase online in a few simple steps. Spend the time and money you save with Expression on those important and perhaps more enjoyable activities such as dressing your shop window, merchandising the point of sale or simply serving your customers properly.
Why our customers rate us 5 out of 5 for satisfaction
On your side
Our policies are designed for shops and restaurants like yours. Our service is too.
Interest-free
monthly payments
A built-in discount
for good customer reviews
A guarantee of our
best price at renewal
Our expert claims team
use local tradespeople
Cover for home deliveries
Time saving and clarity is built-in to everything we do
Is purchasing shop insurance complex?
We offer three easy insurance packages, small, medium and large. They all include Public Liability, Employers Liability, cover for Stock and Contents, Legal Expenses, Business Interruption and Loss of Licence – all the things shops have told us they need. As you increase your package size, the amount of cover increases along with the price. You can use our online slider to choose which package is best for you – it couldn't be easier.
Our people are shop insurance specialists. If you have any questions, or want to make tweaks, we are on hand to help. And our UK Claims Team bring personal service.
Do you offer cheap shop insurance?
No – cheap suggests something that's flimsy and poorly constructed, and that's definitely not Expression. We offer our policies for a price that we hope will save you money, and will represent excellent value. Like you, we know it's the experience that counts, and we are confident that you will have a great one!
What is shop insurance?
Shop insurance is important as it seeks to protect your shop when things go wrong. The world is a complicated place, bad things can happen, some common and some very unusual. With this in mind, shops will look to insure the cost of replacing stock along with general contents such as the nice fixtures and fittings that give personality to your space. Common reasons for a claim include fire, theft, and flood.
It is a legal requirement to purchase Employers Liability Insurance if you employ members of staff. All of the Expression policies include £10m of Employers Liability cover.
As your shop is all about your community of customers, you will also need to consider Public Liability Insurance. If a member of the public is injured or their property damaged, and you are found liable, our insurance policy would pay the damages, including claimant's costs and expenses. The Expression Insurance packages start at £2m Public Liability for small shops and moves up to £5m Public Liability cover for medium and large.
The most common scenario for a liability claim is a slip or trip, for example: 'you forgot to repair a loose tile and a customer trips over breaking their leg and smashing their phone' (A good reminder - fix anything like this when you first spot it!)
You need to fulfil your part of the insurance bargain too, by taking reasonable precautions to prevent bad things happening. This means having appropriate security precautions in place, maintaining your property properly and obeying the law – especially in terms of health and safety. If both sides do the right thing, insurance should not be complicated.
How much does shop insurance cost?
The cost of shop insurance can increase or decrease for several reasons, and these can change based on the insurance company you choose to work with. We look at traditional factors such as where your shop is located. We also look at your customer reviews. If you are doing a good job and getting lots of positive reviews, we think you should be rewarded with a discounted price - a well-run shop that pleases its customers will be a good insurance customer. Other factors that affect the price include the size of insurance package you require and how many claims you may have made in the past. Some insurance companies will automatically increase premiums at renewal - but not at Expression, we will always give you our best price every year. Some companies also charge administration fees - we will never do that - you shouldn't have to pay for documents, or for getting help when you need it - that's what we are here for!
Does Expression provide the best shop insurance?
You'll be the judge. We do offer what independent shops have told us they really want – insurance that's easy to understand, is competitively priced and provides a great claims service when you need it. We are fans of independent businesses, just like yours. You aren't a number; you are creative and unique, owning your own particular niche on the high street. Whether you cater for fashion, provide fabulous homeware, or sell memorable gifts - cultivating long-term relationships and building trust within your customer community is important.
Our approach to insurance is the same, and we'd be delighted if you were to join us.
What kind of insurance does my shop need?
You need a policy that provides protection if the worst were to happen. This could include Stock and Contents insurance, Employers Liability, Public Liability and Products Liability Insurance. A simple package which includes all of this and more is available to our customers.
As insurers, we knew that big chains employ experts to choose their insurance and haggle on price. We wondered what independents do?
So, we talked to our local shops and they told us that they'd love a package of covers with the best price offered to them first time. And, if this could be put together in a plain-English, time saving way, then all the better.
Much like choosing the best artisan products to adorn your shelves, we spent over three years meticulously designing how our product would work, and who would be the best underwriter. That's why we chose to work with Berkshire Hathaway, one of the most secure companies in the world (AA+ S&P). Their solidity, and our commitment to independent shops, has meant we are able to include all of the following as standard:
We are proud to insure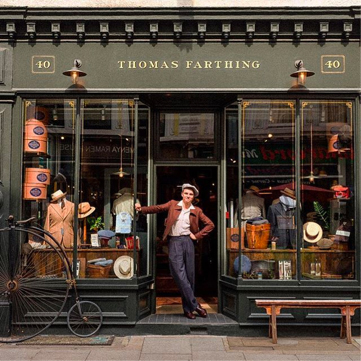 Thomas Farthing
The price is really very good, plus they provided much more explanation as to how things work. They're not a "faceless insurer" – they're friendly and clear.