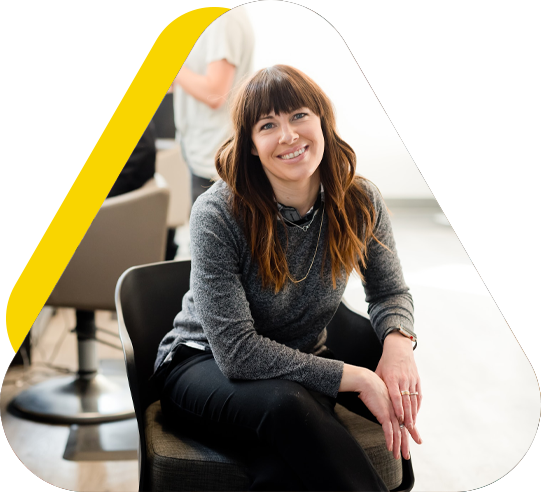 Save time & money whilst protecting your hairdressers, barbers or beauticians
Running a thriving independent hairdressers, barbers or beauticians isn't easy.
When it comes to arranging your business insurance, you deserve a solution that's easy to understand, tailored and gives you the best price. We believe we have delivered; you'll be the judge.
To see if we can save you money, just enter your business trading name and postcode into the box above. It's that easy.
How we save you time and money
A built-in discount for good customer reviews
Interest-free
monthly payments
Time saving and clarity is built-in to everything we do
Our expert claims team support the use of local tradespeople
2 months seasonal 25% increased stock cover
Cover for home deliveries
Is purchasing hairdressers, barbers, or beauticians insurance complex?
No. We offer three insurance packages, small, medium and large. They all include Public Liability, Employer's Liability, cover for Stock and Contents, Legal Expenses and Business Interruption – all the things hairdressers, barbers and beauticians have told us they need. As you increase your package size, the amount of cover increases along with the price. You can use our online slider to choose which package is best for you – it couldn't be easier.
Do you offer cheap hairdressers, barbers or beauticians insurance?
No – cheap suggests something that's flimsy and poorly constructed, and that's definitely not Expression. We offer our policies for a price that we hope will save you money and will represent excellent value.
What is hairdressers, barbers or beauticians insurance?
Hairdressers, barbers, or beauticians insurance protects your business when things go wrong. The world is a complicated place, bad things can happen, some common and some very unusual. Insurance protects property damage, liability for accidents or unforeseen events that could disrupt operations. Common reasons for a claim include fire, theft, and flood.
It is a legal requirement to purchase Employers Liability Insurance if you employ a member of staff. All Expression policies include £10m of Employers Liability cover.
You should also have Public Liability Insurance. If a member of the public is injured or their property damaged, you could be found liable. Our small package includes £2m Public Liability, the medium and large include £5m cover. Each package also includes protection up to £100,000 for claims arising from treatments you provide.
The most common scenario for a liability claim is a slip, trip or fall within the salon. For example: you forgot to repair a loose floor tile and a customer trips breaking their leg and smashing their phone.
You need to fulfil your part of the insurance bargain, by taking reasonable precautions to prevent bad things happening. This means having appropriate security precautions in place, maintaining your property – repair that loose floor tile - and obeying the law, especially in terms of health and safety. If both sides do the right thing, insurance should not be complicated.
How much does hairdressers, barbers or beauticians insurance cost?
The cost of hairdressers, barbers or beauticians insurance can increase or decrease for several reasons, and these can change based on the insurance company you choose to work with. We look at traditional factors such as where your business is located.
We also look at your customer reviews. If you are doing a good job and getting lots of positive reviews, we think you should be rewarded with a discounted price - a well-run hairdressers, barbers or beauticians will be a good insurance customer.
Does Expression provide the best hairdressers, barbers or beauticians insurance?
You'll be the judge.
We do offer insurance that's easy to understand, is competitively priced and provides a great claims service when you need it.
We are fans of independent businesses, just like yours. You're not just another statistic; you represent a wonderfully creative and distinct small business, carving out your niche in the bustling high street, creating captivating and unforgettable offerings, and fostering enduring connections with your valued clientele.
Our approach to insurance is the same, and we'd be delighted if you were to join us.
What kind of insurance does my hairdressers, barbers or beauticians business need?
You need a policy that provides protection if the worst were to happen. As a minimum this should include Stock and Contents insurance, Employers Liability, Public Liability and Products Liability Insurance. A simple package which includes all of this and more is available to our customers.
As insurers, we knew that big chains employ experts to choose their insurance and haggle on price. We wondered what independents do?
So, we talked to our local hairdressers, barbers and beauticians and they told us that they'd love a package of covers with the best price offered to them first time. And, if this could be put together in a plain-English, time saving way, then all the better.
Much like the world of hairdressing, barbering, and beauty businesses where every cut, style, or treatment is a canvas for artistic expression, and every choice is made with precision and care, we spent two years meticulously designing how our product would work, and who would be the best underwriter. That's why we chose to work with Berkshire Hathaway, one of the most secure companies in the world (AA+ S&P).
Not renewing now?
Email us and we'll be in touch to see when you'd like a quote.