The Refillery
In January 2019, Kelly Wright opened The Refillery, a plastic-free and ethical grocery store in Edinburgh. In five years-time she wants there to be Refillery stores across the UK as she launches her franchise opportunity. Here, she tells us what she's learnt about developing the business, providing a much-needed option for customers and the value of community.
"I launched with the aim to make plastic-free shopping more accessible to people. We are a grocery store, not a health food shop, we sell sweets, chocolate and frozen chips. We sell many of the items people need in their weekly shop, just without the packaging and branding. We purposely didn't call ourselves zero-waste as that can be a daunting term.
"When we launched, we spent a lot of time getting to know our customers and explaining how it all works. We reassured people that they could bring in plastic containers and it didn't matter if things got spilt. One mum was mortified when her young child sprinted over to the chocolate buttons dispenser and pulled on the lever releasing a wave of buttons! It was fine but we quickly learnt to move those lines more out of reach.
"We have been developing our product lines but it is still more expensive to shop in this way. This is one of the reasons I want to develop the franchise. With a larger buying power, we will have more influence over suppliers and will be able to reduce costs and drive the development of new lines. There are certain products which we can't yet source loose and which are only sold in unrecyclable packaging. We want to solve these problems.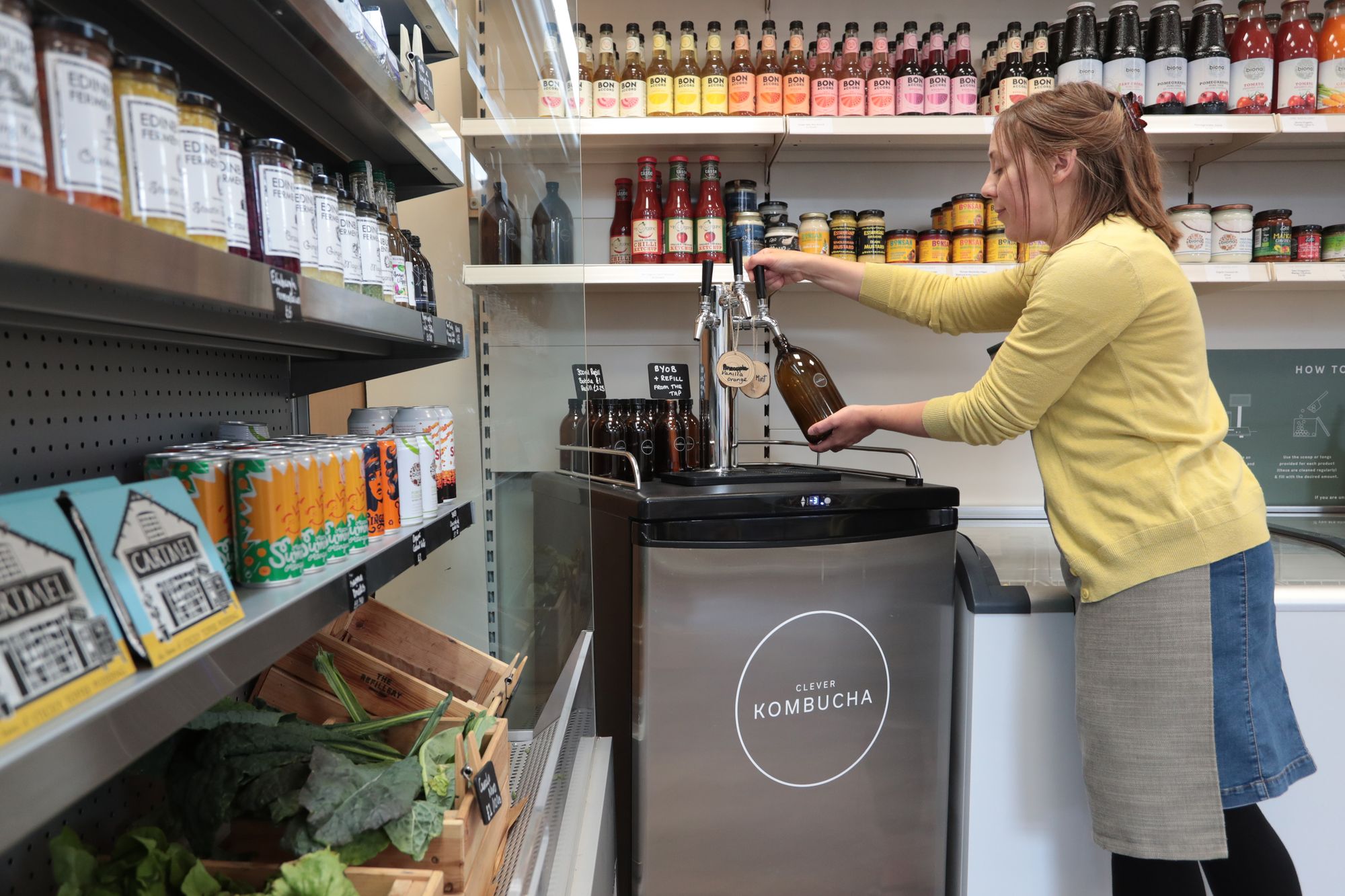 "We currently sell loose wholefoods (like rice, pasta, cereal and pulses), detergents, oils, bread, spices and frozen food all packaging free. We all shop using brands to make our choices so this change takes getting used to. Seeing food without packaging and colours makes us think about eating and cooking in a different way. The colours and textures of the food are their own artwork, the yellows, greens and reds of the pasta are especially lovely. It is not a wall of brown and beige food.
"We are still getting new customers and they are of all ages. One young girl bought her nursery school teacher in. She'd been talking about it so much at nursery! Another woman in her 80s came in, overwhelmed as it reminded her of the ways she used to shop. It's a lovely community, we're all on first name terms. It is just a lovely way to shop. It is more personal and that has been key over the past few months.
"We stayed open throughout lockdown. We did a risk assessment and developed lots of new systems to keep everyone safe. We have a handwash sink in the shop which everyone has to use. There are probably fewer touch-points in our shop than a usual supermarket so people do feel safe.
"I was shielding so haven't been on the shop floor which I have missed but it meant that I was able to launch our click and collect service within a week of lockdown which was a real lifeline to people. So many people were scared to go out.
We stayed open through lockdown and also made some appointment-only slots for people who were shielding or at high-risk. It's been a real community hub, people have come in for groceries but value the physical and personal interaction, the positive atmosphere and seeing friendly faces.
"I developed a scenario plan for each member of the team and developed a rota so that if someone got ill, there would be other people to cover and keep the shop going. We also put a call out for local volunteers. We only had to use two of them but it was reassuring to know they were all out there if we needed them.
"I feel like we are heading towards a tipping point of more people shopping this way. There is so much awareness now about plastic and the environment. So many more people want to shop plastic free. There are lots of loose-goods shops around the country but we are all independents. We need a bigger buying power. We've had a great response to our initial announcement about the franchise. I'm excited about what's next."
October 2020
---
Follow The Refillery on social media and keep up to date with their story:
Other blog posts you might find interesting
We asked Jeff Moody, Commercial Director of BIRA, what advice he has for independent retailers post lockdown in 2021. I'm looking forward to a ...
Read more