Helmsley Traditional Sweet Shop
Pear drops, cola cubes, flying saucers, chocolate covered limes, sherbet pips. This shop in North Yorkshire sells nostalgia and joy in striped paper bags.
-----------------------
Helmsley Traditional Sweet Shop has been open since 2013. Co-founder Lynn Hempsall said it was something she always wanted to do.
"I grew up in York with three confectionary factories in smelling distance in the 1970s - Rowntree's, Terry's and Craven's. In York, you either worked on the railways or in confectionary. My relatives worked at these factories from the 1920s onwards. My grandma worked on the Chocolate Apple which was the precursor to the Chocolate Orange. My uncle was an accountant at Craven's. We used to get the spoils from the factories, like mis-shaped Smarties and KitKats without the biscuits! Opening the shop was a return to my roots".
Getting started
"I started my career in finance management within hospitality and small business sectors. But work got very stressful. One dreary day in January 2013, a colleague and I decided to escape to Whitby for a couple of hours. We each bought a 100g bag of sweets and wandered round in the cold. He had midget gems and I had mints as that is what my grandad used to carry in his pockets. My colleague said that the sweets transported him back to his childhood and for that hour the stresses were gone. I realised that a bit of nostalgia helps us all when times are tough so there and then set out to open a sweet shop.
"We started looking for premises and agreed it had to be Helmsley. It is one of those places people visit to wander round. We found a unit which used to be a takeaway. It was perfect as it was small which would help it feel nostalgic, and long so we could turn the inside into a wall of sweets that people could see from the street. We fitted a proper counter and units to store the sweet jars. Pre-COVID-19, customers had to choose and carry the jars they wanted to the counter, they almost used to cuddle them! We wanted people to come in and go wow!

"We worked really hard to track down traditional companies still producing sweets as they tasted when we were all young. Some were still going, many based in Yorkshire, still independently owned. One of our best sellers is Yorkshire Mix which is made by Maxons of Sheffield, a family-run business which started in 1927.
"We quality controlled everything at the start – tasting before stocking. We don't want people to come in and say 'they were nothing like I remember'.  We now carry over 300 varieties of sweets. I have tried everything except the super sour sweets which I don't like at all! Horrible!
Sustainability
"We are conscious of our impact on the environment. All our empty jars are given away to customers for them to reuse. I keep bird seed in mine. We sell our loose sweets in paper bags and have just changed to biodegradable labels. During the first lockdown we changed all our plastic gift bags to cellulose bags.
"We also work hard to ensure the majority of our stock is palm oil free. One of my big passions is the orangutans in Borneo which I have seen first-hand. Unfortunately palm oil is still in most of the cheaper sweets. More manufacturers are now using sustainable palm oil. Others are declaring palm oil where they just listed fats or oils before so it is becoming easier to avoid selling those products. We fundraise for two orangutan sanctuaries. Our wonderful customers have helped to raise over £5,000 to date."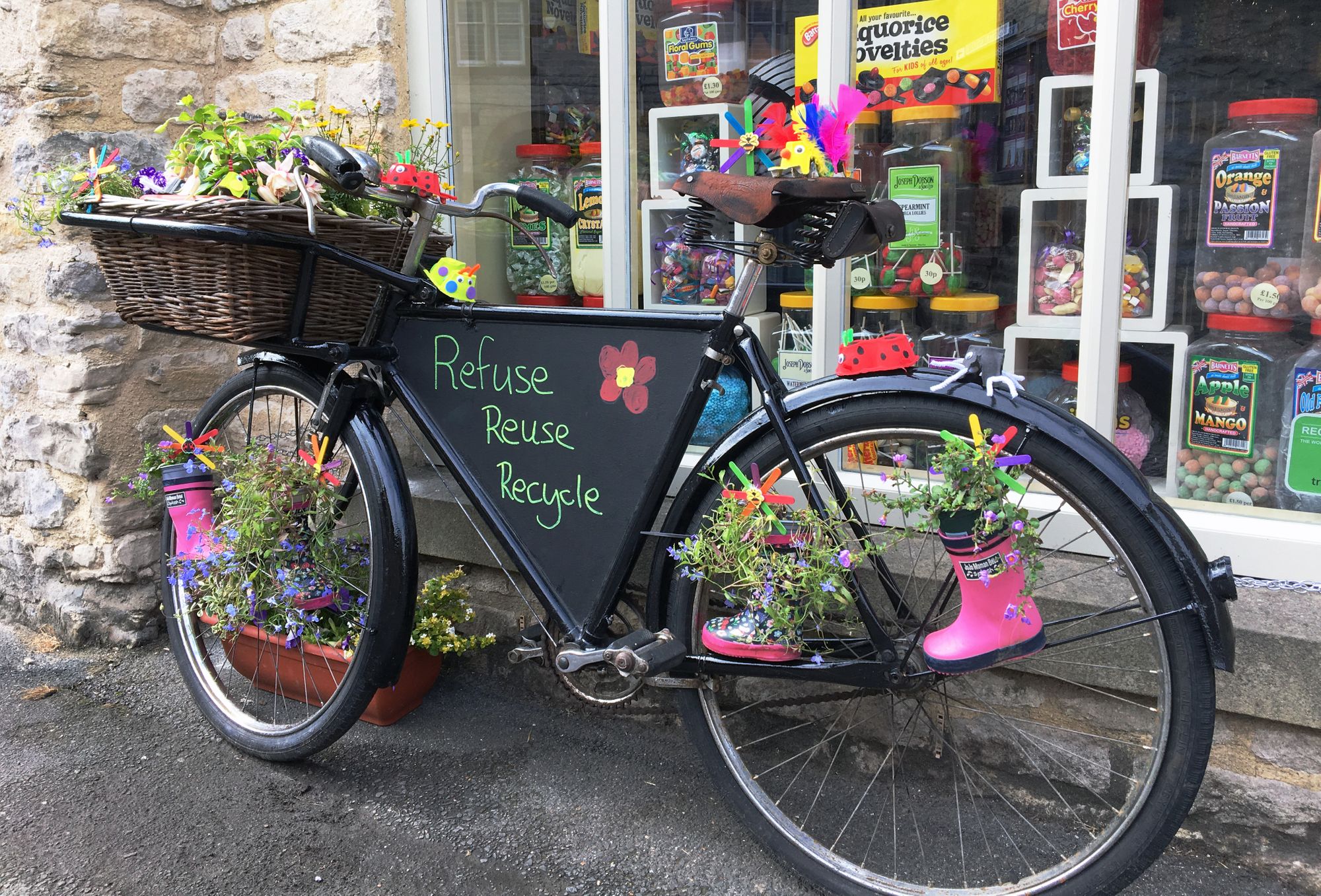 Our customers
"What sells can be very seasonal. In the school holidays, we sell lots of fizzy sweets. At other times, older people come in and buy toffees. We have a top ten of regular best-sellers but for everything else, it changes. We often get a run of people buying the same thing, one after another when they see (and smell) what the person in front is buying! Even after all this time I can't predict what someone is going to choose.
"We try to make it easy for people to choose what they want. We display all the boiled sweets together, all the chocolate covered sweets, all the gems. We also stock products to appeal to people with allergies and other requirements – gluten free/vegan/halal sweets. You have to adapt to what people want.
"January is usually a quiet month but there is a peak in the middle when people give up their diets and need a treat. We don't see much difference for Valentine's or Mother's Day – we can't compete with chocolate! Father's Day is bigger for us. We know our market, our specialism and our customers."
2020
"We had a peak just as the first lockdown was announced. People wanted something to cheer them up. When times are tough, people want comforting sweets for £1.
"The shop was full of stock. A friend started to create a website as we didn't have one before. He was on the case and days before lockdown it was ready. He said to keep it simple – told me I wasn't John Lewis! He pushed me to get it done. It was a lot of work to get everything in place with sustainable packaging. We did local deliveries ourselves to people in the villages. I gained lots of empathy for posties while I was searching for obscure addresses!
"I was so glad we were busy during this time. It wasn't just a financial thing. Our stock would have gone off. It would have broken my heart to have to throw it all away. Once the sweets go into the jars, they don't have a long shelf life. We only lost one jar - Scottish Tablet – which is made with cream and went off in the heat.
"Later on, we adapted the shop as it isn't two meters wide and we could no longer let people touch the jars. So, we changed to operate as a kiosk over the summer. We added a stable door with a counter and scales. Customers loved it. No-one complained about queueing. They were all chatting to each other alongside the window.
"In later lockdowns and tiers, it was hard. We were in tier 2 but other areas close by were in 3 and 4. We stopped doing social media to promote the shop as we didn't want to attract new people. It was a real ethical dilemma. It was difficult as we were serving people who shouldn't have been there.
"Little bits of joy have kept us all going this year. If people want to come in and spend 10p rather than getting a full 100gs, that's fine with us. We also sent £1.50 mixes to our colleagues in local shops who were working hard to support the community."
Looking forward
"The website has opened up new business. In August we had an order from someone in Germany. People come to this area on their holidays and visit the shop. Now when they go home, they can still buy.
"We don't yet know what impact Brexit will have. Most of our lines come from UK manufacturers and wholesalers. But some of the ingredients in the sweets are likely to come from overseas so supply chains might be affected. We are fully stocked now so we'll have to see. Nostalgia also pops up in strange ways. We have had customers say 'well at least you'll be able to sell in quarters soon' thanks to Brexit.
"The lovely thing about the shop is that everyone smiles. The rows of sweet jars trigger many memories, we get told lots wonderful stories about people's childhoods. We hope we'll be here for many years to come."
January 2021
---
Follow Helmsley Traditional Sweet Shop on social media to keep up to date with their story
Other blog posts you might find interesting
We asked Jeff Moody, Commercial Director of BIRA, what advice he has for independent retailers post lockdown in 2021. I'm looking forward to a ...
Read more